Industry and Planning Research Institute
  Industry and Planning Research Institute of CAICT (China Academy of Information and Communications Technology) (hereinafter referred to as "IPRI"), a national research and consulting organization in soft science, is one of the most important research institutions that undertake the key projects on ICT from telecommunications, informationization, to the internet. We provide comprehensive solution in four types of businesses, government desion-making support, business planning, consulting and electronic engineering design, including the emerging fields like Smart City, Digital Economy and Innovation Management.
  Nationally, we are the most trusted advisor and counselor to the central government, provincial and municipal governments and large and medium-sized governments. We've helped the central government formulate its Five-Year Plan and make policies; we've advised provinces and cities on internet performance optimization, cloud computing, and e-government building; we've also provided advices to state-owned enterprirses, privately-held domestic companies and multinational corporations on telecommunication operation, communications equipment manufacturing and other areas.
  Our telecommunication consulting businesses include study and industry planning on telecommunication policy, radio management, new mobile wireless broadband technology, emergency communications, monitoring strategic environment, enterprise operation management, customer satisfaction and NPS evaluation, monitoring integrated services, IDC planning and evaluation, and malicious information governance.
  Our informationization consulting businesses comprise of study and industry planning on Smart City, Internet Plus, Cloud Computing and Big Data, top-level design on digital economy, information infrastructure, information consumption and mass entrepreneurship and innovation development.
  Our internet consulting businesses are made up of study and industry planning on national and local internet performance optimization and its system building of monitoring and analyzing, backbone direct connection point, the optimization of internet architecture and construction of monitoring system, improvement of regional international communications infrastructure, next-generation internet technology and Pv6 development monitoring platform construction; network data and personal information protection, and network information security.
  Our electronic engineering consulting businesses contain design and planning on e-government engineering, Smart City , information infrastructure and emergency communications.
  Sincerely, our 300 engineers with a variety of academic backgrounds, 90% of which are masters, are on hand to give you professional, high-quality services.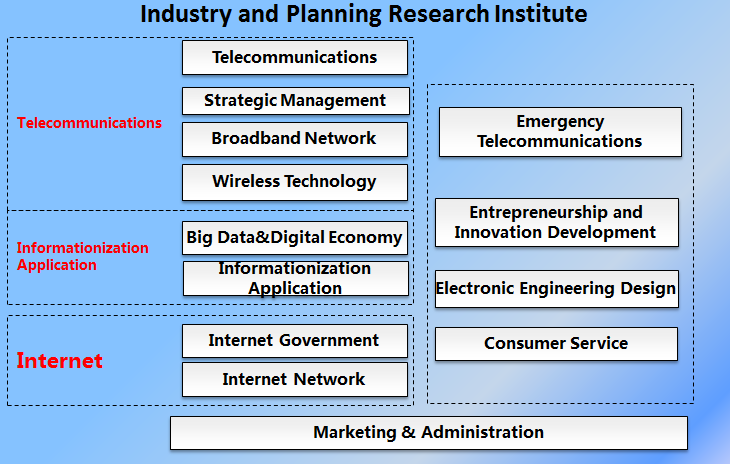 Organizational Structure