In recent years, continuous progress has been achieved in information accessibility ICT research and standardization oriented to the handicapped. The project of the Information System Service for Visually Impaired People (ISS-VIP), the first international standard of information accessibility led by China, was successfully approved at ITU-T SG16. The proposal was submitted by CAICT, in cooperation with the Department of Civil Rights of China Disabled Persons' Federation (CDPF), China Association of the Blind (CAB), Protection & Ease and other organizations, to the meeting of ITU-T SG16 on July 9-20.
  Research will be conducted on a mobile internet-based information service system in aid of the blind. The system will provide visually impaired people with image identification, video assistance, travelling companion and other services needed in life, work and study and enable their access to more visual information and more traveling opportunities through gathering volunteer resources effectively and distributing them reasonably to visually impaired people asking for help. Implementation of relevant work not only means improving the living quality of visually impaired people, and also signifies they will have more opportunities of receiving education and getting a job, be self-reliant and thereby, may improve socioeconomic status through their effort.
  Representatives of ITU Q26/16 study groups present at the meeting highly affirmed the content of the standard, and said they would invite international well-known enterprises, such as Sprint, Google, Microsoft, AIRA and IBM, to participate in the research so as to bring in the latest scientific and technological achievements in aid of the disabled ITU-T SG16 Chairman Noah Luo had talks with experts from various countries involved in Q26/16, encouraged them to have sincere cooperation and in particular, congratulated China's first breakthrough in this aspect. He also gave pertinent suggestions for the current research of the academic circles and the industrial circles—we should develop new technologies according to the different needing scenarios of the handicapped, use innovative science and technology to solve problems for the blind and other disabled people, and provide visually impaired people with new service experience and create conditions for them to be comprehensively involved in social life.
  Thanks to the approval of the project, the first international standard of information accessibility for the disabled led by China, relevant state organs will attach greater importance to this aspect, which will obtain more support from government and all sectors of the society in future input intensity and resource, and will take the standardization of this field as an important direction of sustainable development by virtue of ITU-T SG16.
  Subsequently, CAICT will push ahead theformulation of the standard and the implementation of relevant research and development in extensive cooperation with public interest organizations, technical research departments and product development enterprises at home and abroad that concern about this technology.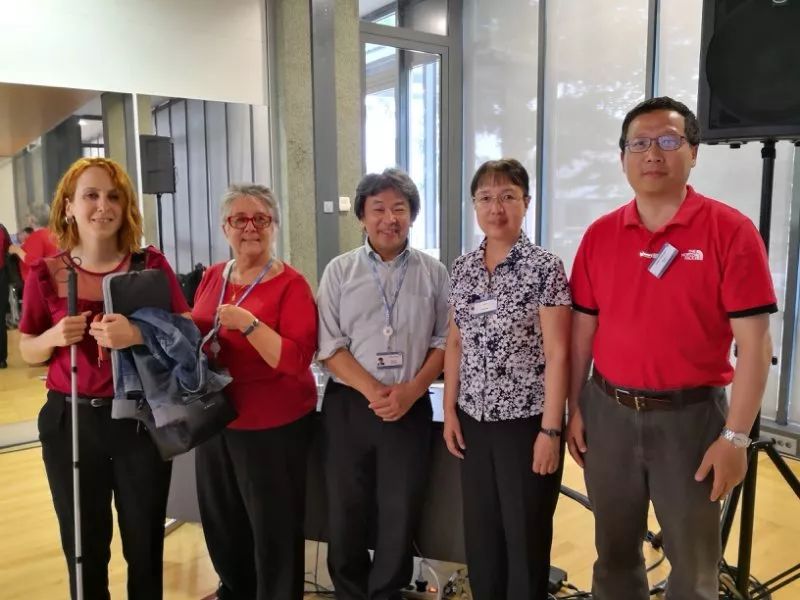 Representatives present at the meeting (from left to right):
  Gamze Sofuoglu (Representative of Visually Impaired People), Andrea Saks (Coordinator), Masahito Kawamori (Q26 Rapporteur), Yinghua Wu (ISS-VIP Principal), Noah Luo (SG16 Chairman)